You've heard it before: location is everything! Whether your business is growing or just starting up, finding the right place to set up shop is key to your long-term success.
As experienced construction professionals, we've helped many new business owners set up their locations over the years. We always love to help, and definitely know what to look for in a location for a smooth construction process. See these 5 tips for choosing a property where your business can thrive and avoid construction hiccups!

Consid

er acces

sibility
It's important to consider the logistics of building on different lots. Just as you want your future customers to have accessibility to your business, you also want your construction team to have access. Find out if heavy machinery can get to and maneuver the lot, and if there is room for the necessary materials, teams, and machinery.
If you are considering building in a high-traffic area, you will likely need to select a builder that is willing to do significant night work. When our team builds in high-traffic areas, we often find that working at night is the best way to save time and mitigate traffic concerns. Your construction team should also be mindful of protecting your new business's image. Maintaining the highest safety standards for bystanders and ensuring a clean site is especially critical in high-traffic areas.
Find the right ground
The lot you choose will ideally have the right grounding to support a building's foundation. Lots that are sloped or are made up of sand or loose sediment can lead to unique building challenges that extend the building time and cost. If you are unsure of your ground quality, consider getting advice from a construction expert who can help you decide if the lot will need additional levelling before the building process can begin. This can also include assessing if anything on the land will need to be cleared, such as trees or other structures.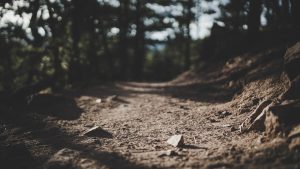 Find your vision
Finding the perfect lot for your business depends on your vision. Do you picture your new business in a large one story flat, a quaint 2-story loft, or perhaps as one of a variety of businesses together in a complex? How you want your building to look and function determines what lots are available to complement your vision. Your contractor can lend valuable insight on what kind of lot best suits the building style you have in mind.
Determine the full cost
Before pulling the trigger on your lot, learn about all of the costs associated with building there. For example, you want to consider permitting costs, construction loans, lot preparation fees, and more. Your construction partner can help you navigate these costs, and ensure that you purchase the right permits for a smooth build.

Find the right space
Assess your land options as if it's 5 years from now. Do you see your business quickly growing? Do you eventually want to separate office spaces? Considering on-property parking? You should think about how your business may grow and change and find land that can adapt to this potential growth. Your builder can help you envision how the land you choose can adapt over time.
Scherer Construction- Florida's Business Builders
We're Scherer Construction, the commercial builders that Floridians have trusted for over 30 years. Our team of experts will help you bring your business to life, beginning with helping you find the right location. Contact us to learn more about building your business with Scherer Construction.