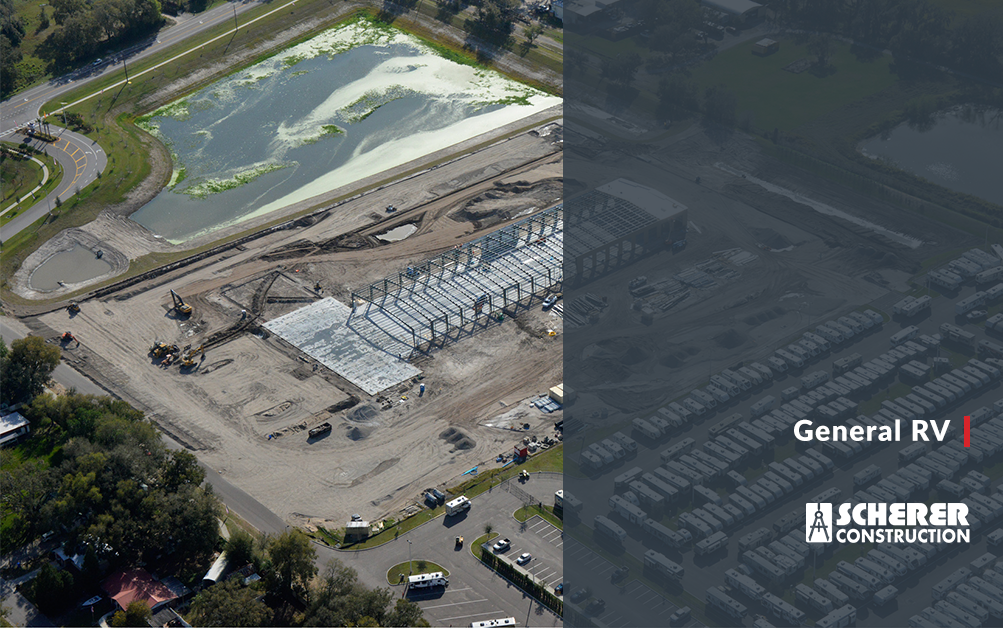 As the nation's largest family-owned RV dealership, General RV partnered with Scherer to help create world-class facilities where they can continue to provide its customers with the best service in the industry. With thirteen locations across six different states, General RV has a rapidly growing customer base that requires its facilities to meet the needs of its customers, particularly in Dover, Florida.
General RV's Dover, FL location needed the expansion of its current facility to extend its offerings beyond its customer base and continue to provide a unique experience to its customers. The project was broken into three phases to accurately and efficiently meet General RV's goal. 
The three-phase project began in November 2019 and is currently in phase three, with an expected completion date of August 2020. Each phase of the project focuses on a different aspect of the site that ultimately addresses one major concern: additional space.
What does each phase of the project entail? 
Phase one was the construction of a 30-acre site that included space for retail sales, a service facility, and building for deliveries. Phase two focused more on the visual appeal of the General RV location. In phase two, the parking lot was expanded, the entrance to the facility was revised, and retention ponds were added for a new RV retail display area. Phase three includes the much-needed addition of a pre-engineered building measuring over 76,000 square feet. 
At its completion, the construction will add 60,675 square feet of floor area, which will provide 34 additional service bays that will become delivery bays and allow General RV to enhance its customer experience.