The Design/Build Method is used by top construction firms to lower costs, streamline efficiency, and ensure top quality in every completed project. Scherer Construction has utilized this technique since day one, and stands behind the benefits it offers their customers. If you're looking to start a new project, here is how the Design/Build Method can save you time and money!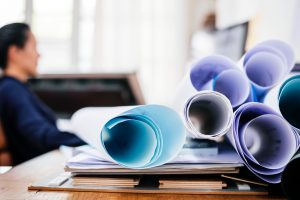 The Designer-Contractor Relationship
With a traditional approach, the owner must manage two separate contracts, one with a designer and another with a contractor. This can create a disconnect between the design plans and how the contractor will execute the build.
The Design/Build Method was created to overcome these communication issues, and provide the opportunity to realize increased project value through collaboration. Now, the owner only manages one contract and one team. This one team will apply their varying areas of expertise to design a space that provides the highest value, and select the best materials for both functionality and aesthetics from the project's initial planning stages.
Traditional:                                                                    Design/Build Method: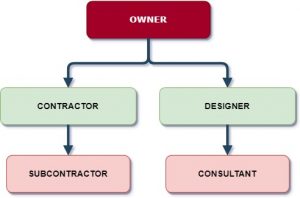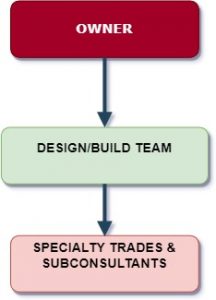 So, how does this save you money?
It's all in the contract
Since the owner only has to create and present one contract, the team has greater control over how pricing is determined. With the traditional method, the independent contractor and designer will each charge their own amount, with no regard for the total cost. The Design/Build Method takes away the middle man so that labor, materials, and other costs can be calculated at once, taking all aspects of the build into consideration.
Through the Design/Build method it is also easier and faster to make changes to adapt to the owner's budget. According to DBIA.com, on average Design/Build projects save 6.1% in costs compared to the traditional approach.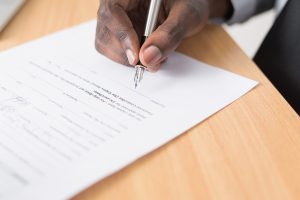 Now, let's look at how the design/build method will save you time. And we all know that when it comes to construction, time is money.
Collaboration is Key
The structure of the Design/Build Method is intended to save time from the beginning. By removing independent contractors, our team can process permitting as soon as the project is secured. Once the negotiations are done and subcontractors are chosen, the team can go straight into the construction phase. This typically saves 4 months! Our engineers, architects, and contractors work together from day one to prevent any hiccups before they arise.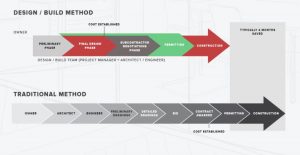 Scherer Construction– The Best By Design
By utilizing the Design/Build Method, Scherer has established itself as the choice for comprehensive construction services in North Central Florida. With a qualified, unified team of expert engineers, designers, architects, and contractors, Scherer can get your project done faster, and deliver the highest value finished product. Visit us online to learn more about building with Scherer.