With over 130 locations in 14 states across the country, StorQuest has earned its name as a trusted storage facility. Our team at Scherer Construction has helped the company continue its expansion in Gainesville, FL to serve the town's growing student population. This new 4-story, 900 unit facility is located on Archer Road in the heart of Gainesville.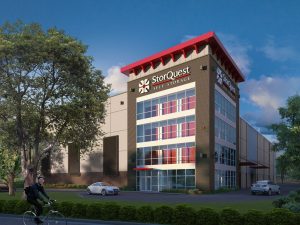 Scherer worked with StorQuest to help implement self-serve kiosks to improve storage convenience for University of Florida students. This new technology, called StorQuest Express, will give renters access to their units 24 hours a day and 7 days a week. They have already utilized this self-service capability in their facilities in Tampa, FL, Phoenix, AZ, and Los Angeles, CA. At Scherer Construction, we are always excited to work on projects that push our teams to incorporate new business practices, and technology, into their designing, planning, and building processes.
Scherer Construction also recently completed a brand new StorQuest facility in Deltona, FL and have started construction on another storage site in Kissimmee, FL. These two new locations will be followed by a third expansion in Palm Coast, FL. The StorQuest company is rapidly growing, and we are happy to be a part of helping them bring their storage options to so many communities in Florida. Scherer will also be working on renovations and repairs on Gainesville's 2 other facilities.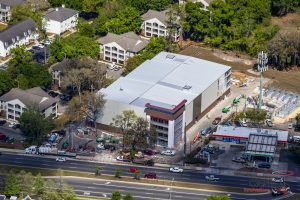 Creating Value and Long-term Partnerships
As far as client satisfaction goes, we are never more honored than when a client comes back to us to complete additional projects. StorQuest is just one of the valued partnerships Scherer aims to develop with each build. When building with Scherer Construction you can be assured that our team is devoted to every client's success, goals, and satisfaction.